It's World Pride time!
Life at LLW
World Pride (17 Feb – 5 March) is the global LGBTQIA+ festival that has been operating since 2000, with cities all around the world competing to host it.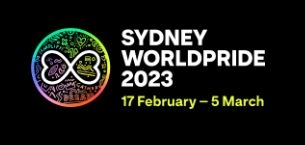 In 2023 this festival is in Sydney, coinciding with the annual Sydney Gay and Lesbian Mardi Gras. The two combined create a broad offering of art, sport, theatre events and talks across subjects like human rights, LGBTQIA+ rights, access and a sampling of First Nations programming to celebrate and elevate First Nations LGBTQIA+ Sistergirl and Brotherboy culture.
It's an exciting time where the diverse community, often deemed a minority, get to be in the spotlight and it's a fantastic opportunity to learn more and build understanding.
In the spirit of World Pride, we wanted to share some information and links. 
Six fast facts about World Pride and Mardi Gras 
1. World Pride is hosted by InterPride which was founded by Marsha H Levine and the National Association of Lesbian and Gay Pride Coordinators (USA) in 1982, and has grown into a global network of over 400 LGBTQIA+ member organisations from over 70 counties.
2. World Pride is global event licensed by InterPride, which is awarded to a different host city every 2-3 years. The first World Pride took place in Rome in July 2000, followed by Jerusalem (2006), London (2012), Toronto (2014), Madrid (2017), New York (2019) and Copenhagen + Malmo (2021).
3. The Sydney Gay and Lesbian Mardi Gras (SGLMG) is an LGBTQIA+ not-for-profit member-based organisation that produces the Sydney Gay and Lesbian Mardi Gras Parade and Festival and several other events and supportive initiatives throughout the year.    
4. SGLMG was built on the foundations laid by early community activists who fought for LGBTQIA+ rights in a time of wide-spread, institutionalised oppression and discrimination. These pioneers are often called "the 78'ers".
5. Sydney World Pride is the first time the event will be staged in the southern hemisphere, and coincides with the 50th anniversary of the first Australian Gay Pride Week, the 45th anniversary of the first Sydney Gay and Lesbian Mardi Gras, and the fifth anniversary of Marriage Equality in Australia.
6. In total, it is expected more than 200 events will be staged as part of the broader Sydney World Pride Festival, to be enjoyed by over 500,000 people.
Check out this really interesting interactive timeline which contains some fascinating photos that really help amplify the  importance of the early pride march and highlight the reasons for each and everyone since.
Not in Sydney?
Check out the live stream via ABC or jump in and buy a ticket to some of the on-demand films as part of the Mardi Gras Film Festival. 
Want to know more?
One last thought…
Whilst we are so lucky to live in a developed country that celebrates all the above and has come a long way from the historical treatment of the LGBTQIA+ community in the 50s, 60s, 70s (and beyond), there is still work to be done to achieve inclusion and acceptance for everyone in this community. At LLW we continue our commitment to building our understanding and improving our practices, so we provide inclusive support services and a welcoming workplace.